The merits of teaching kids to learn how to code at an early age is well known. But learning to code can be hard. Finding the right environment to learn in can make all the difference.
Connected Camps brings the fun, creativity, and social experience of summer camp online. Your child can learn to code, use redstone, design fantastical cities, create animations, build games and more in the virtual worlds of Minecraft and Scratch. The best part—join from anywhere! Campers ages 8-13 build, play, and share with instruction from expert tech mentors. View our full schedule of summer camps by clicking here. 
A New Way to Learn
Connected Camps online beginning coding camp in Minecraft is a great way for young coders to get started. Kids learn to program robots in the Minecraft world, learning the basics of coding and computer science along the way. Our online counselors provide expert instruction in a social and supportive setting. Designed for beginners, our summer camps make coding fun, and take advantage of the fact that your kid is crazy about Minecraft!
Instead of lectures and assignments campers are given the opportunity to explore, innovate, and play. With campers setting their own goals and creating their own projects, code becomes a tool for achievement and success.
Coding Camp is Designed for Beginners
Designed with young learners in mind, our beginning coding camp use a Minecraft mod called ComputerCraftEdu. ComputerCraftEdu adds robots called 'turtles' to the game. These turtles can be programmed to do all kinds of powerful tasks in the world of Minecraft. Between chopping trees, digging mines, and more they give kids an enormous toolbox to shape their Minecraft world.
The mod is filled with helpful tooltips and features. Every code block has a description and various parts of the code editor will light up with suggestions that aid in creating complete and functioning code. It allows our online counselors to view the code with the campers so that they can make changes together. This makes learning collaborative and fun. Campers can even rewind their code, run through it step by step, or see the world through the eyes of the "turtles," or automated robots, they've designed.
Beyond the helpful supports built into the platform, campers will have the chance to leverage the expertise of the community. Need help? Just ask. Have an awesome idea for a program or project—let the whole group know. Your child will quickly find others who want to work with them to make their coding dream a reality.
Coding Simplified, Beautifully
When you first start out coding, one of the biggest obstacles can be the way you have to write code; learning all of the syntax (the special words and structures) before you can even begin can be discouraging. With ComputerCraftEdu's visual coding, beginners don't need to actually write a single line of code. Instead, dropping code blocks arranged into a grid creates code. Each of these blocks represents a specific part of the code and by putting them together, create the same effect as a written program.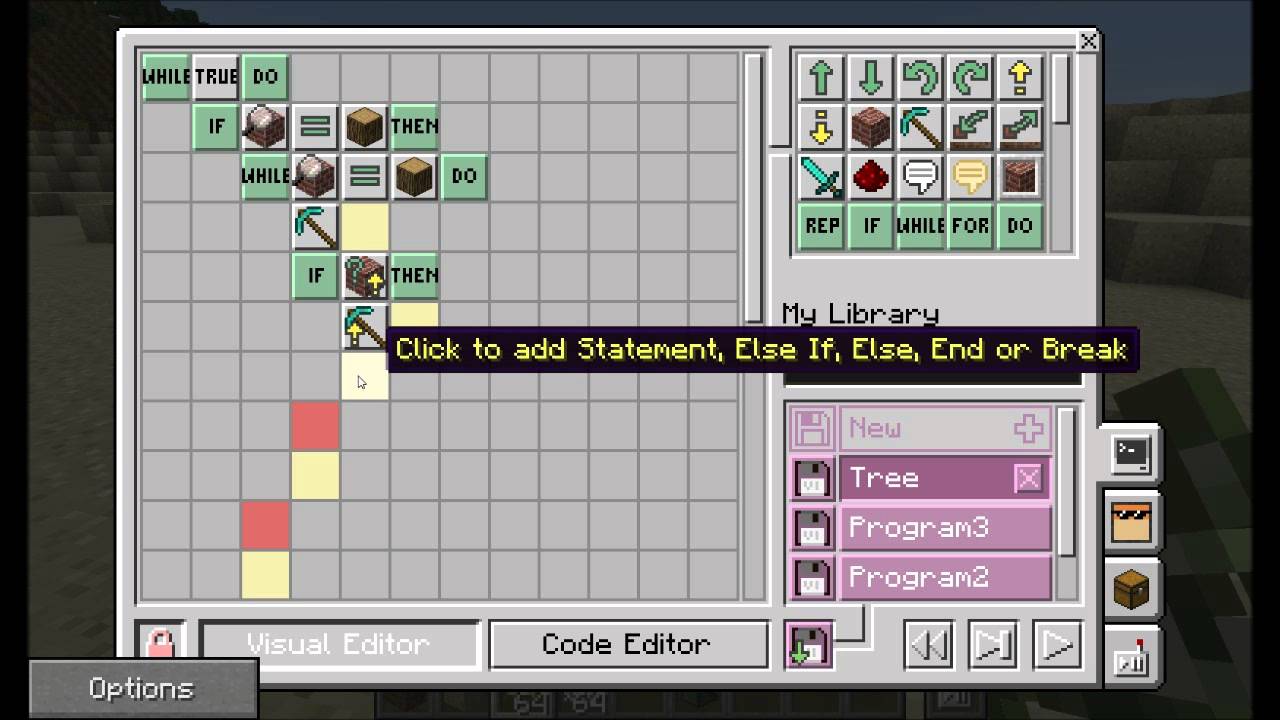 The most beautiful thing about this visual coding approach is that it's still a lot like coding. So similar, in fact, that the visual code can even be automatically converted into text! This is important because it means that the coding that is learned through ComputerCraftEdu is directly applicable to coding in the real world. In fact, the code written in the game is actually in Lua, a programming language used by professional developers in the real world.

Why Join Connected Camps Beginning Coding Camp?
It's simply the best place for a young Minecraft enthusiast to start their coding journey. Not only will your kids love it, it will leave you wondering "where was this when I was a kid." Campers will be so busy having fun, making new friends, and playing online that they won't even realize how much they are learning.
Click here for our full 2017 offerings.

Luke Lohden is the Connected Camps Lead Counselor for Scratch Camp.  He is a Computer Game Science student at UC Irvine.